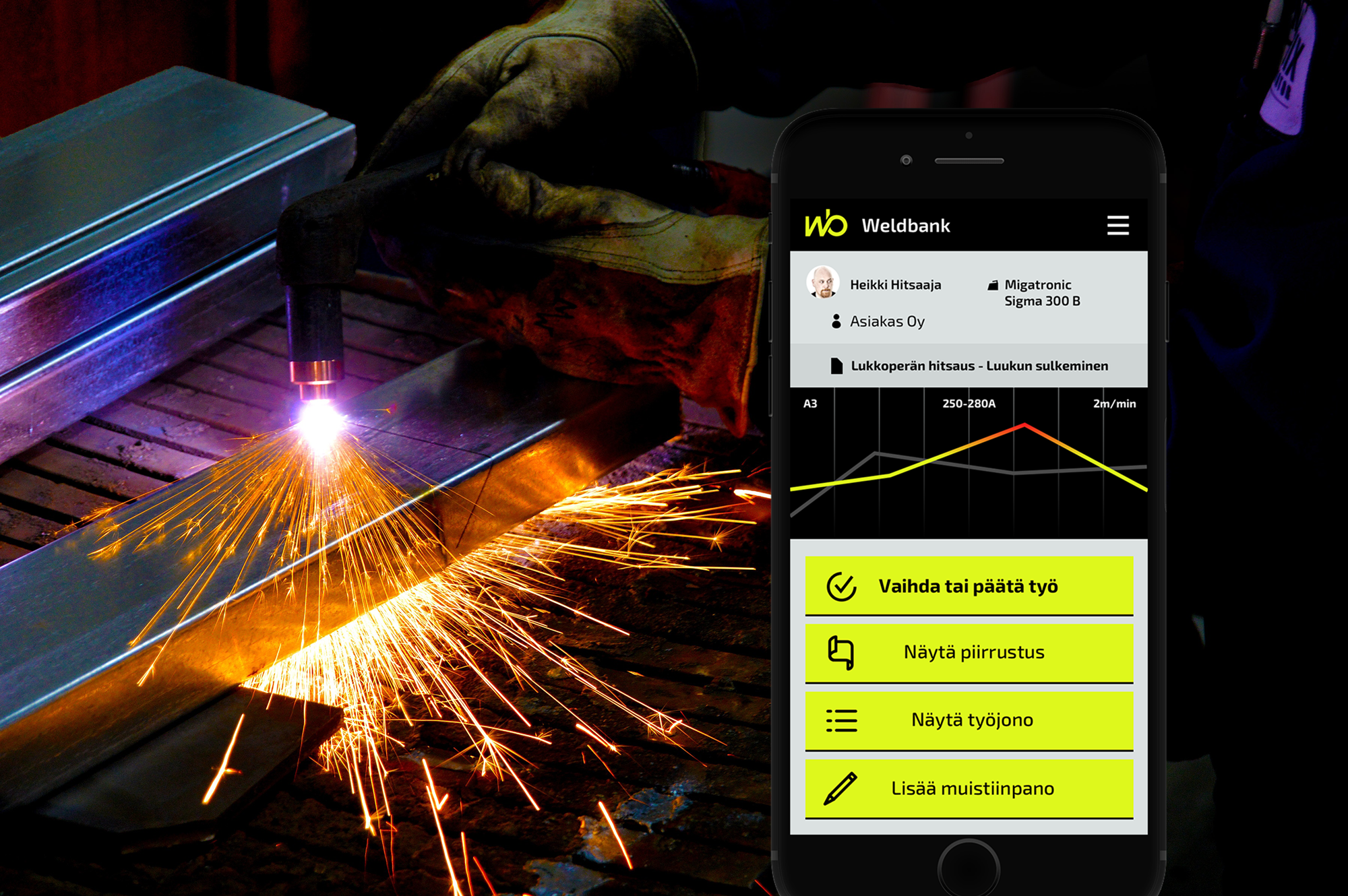 Real-time monitoring of welding parameters WeldBank
We build systems that automatically monitor the operation of welding equipment, tailored to the need. Our system WeldBank is compatible with welding machines of all types, brands and ages. Also for welding robots.
Welder's the work is usually monitored by the welding coordinator with manual spot checks. In addition, it is possible to develop the monitoring of the quality of welding work with a continuous and automatic monitoring system of welding parameters. In the WeldBank monitoring system, a small transmitter and sensors are connected to the welding machine, which monitor the welding current, voltage, transport speed, wire feed speed, gas flow, burn time ratio, etc. during the work.
The welding parameters are sent wirelessly to the cloud, even without an internet connection
This information is uploaded to WeldBank's cloud service, where it is combined with job information and compared to planned target values. Thus, the welding parameters used to produce it are continuously and automatically stored in the job. All of this can later be reported to the customer and viewed later if quality differences are noted. The welder also constantly sees the details of his job with his own mobile application, which can also look at welding maps and drawings. The same device can also be used for stamping work and communicating with the management. The program can also be combined with electronic work schedules and work instructions. The hardware costs are very moderate and therefore WeldBank can be combined with a large number of welds at a reasonable cost.
Automatic alarms when limit values ​​are exceeded
Real-time monitoring of welding parameters enables various alarms to be triggered when limit values ​​are exceeded. We can also detect the use of the wrong thread and calculate different penetrations. If necessary, the welder can be asked a variety of quality-related questions before starting work, thereby reducing human error.
The software can create welding maps, maintain information on welders' ratings, and compare the breakthrough times of each welder with each job. It also makes it easy to target the work to the person who is most successful.
Versatile management reports
Management reports are versatile, and just look at the software production screen to get a snapshot of production. For some jobs, the burn time ratio also indicates the efficiency of production workstations, and the data collected by the program can be combined, for example SkyPlanner APS - Fine Load Program to support work planning. The reports cover things at the whole production level, but you can drill down to the individual weld seam level.
WeldBank is always tailor-made and the welding parameters reported according to the individual wishes of each welding company. Real-time monitoring of welding parameters is a way for a Finnish welding company to compete for large international customers. Quality control will tighten and create an excellent market advantage for welding companies following their time in Finland.
Contact us and we will design a quality control system for your monitoring system to meet your needs!
Sales and Details:
Jussi Mäntylä
Skycode Oy
+35840-7000002
[email protected]