Visma Nova integrations
for all software
We integrate the Visma Nova ERP system with all the software you need. software integration allows you to automatically move data between Visma Nova and other software automatically. This reduces the amount of manual work involved when you do not have to manually enter the same information into multiple software programs.
We tailor Visma Nova integrations just according to your needs and we will go over your needs with you in detail. The information can be moved almost in real time or even once a day and the data can also be modified according to defined rules. Other software can be added later to the same integration to discuss with Visma Nova.
We are an official Visma integration partner and we have a development interface with Visma Nova and its Web Service interface for testing our integrations.
What is Visma Nova?

Visma Nova on Visma Software made by thousands of Finnish people in different industries. Visma Nova is particularly used by industry, importers and wholesalers. Visma Nova also has sophisticated financial management tools, so comprehensive business management can be achieved in Nova.
Visma Nova is a complete turnkey business solution, where you can pick out the additional features you want from a wide range.
Skycode has also built in additional features for Visma Nova to expand and enhance Nova's functionality. For example SkyShop - an electronic ordering channel for resellers gives your dealers the opportunity to order products from your online store and takes orders directly to Visma Nova. SkyPlanner - production planning and fine loading while providing artificial intelligence to help optimize production queues.
Visma Nova includes versatile hourly and material data processing as well as electronic work assignments. Visma Nova provides a modern and comprehensive Web Service interface that enables smooth and fast data transfer between software.
What does Visma Nova integration mean?
Visma Nova integration is a kind of snack that retrieves and exports information between Visma Nova and another software in a desired way. One end of the integration is connected to Visma Nova and the other end to the other software. The Web Service Interface provides us with excellent ways to bring in moving information in a variety of ways.
We can carry the integration along Visma Nova for example:
orders
Hourly stamps
stock balances
Collection receipts
product structures
freight documents
Visma Nova - e-commerce integration
Visma Nova integration is also successful with all e-commerce software thanks to a good interface. Orders and stock balances move between Woocommerce and Visma Nova, for example. We have built a lot of integration between ecommerce and ERP systems and we quickly understand your needs. Ecommerce integration saves you time by eliminating the need to manually tap orders into the ERP system. Your customer satisfaction will also increase as the information in your online store is always up to date.
Examples of integrations between Visma Nova and e-commerce:
Visma Nova - Woocommerce integration
Visma Nova - Magento integration
Visma Nova - Shopify integration
Customized additional features for Visma Nova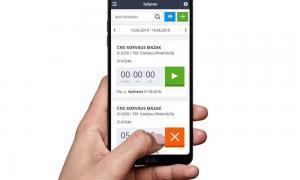 Skycode also builds the unique features you want on Visma Nova. We have decades of experience developing software to meet the unique needs of our customers.
We can build the functionality you need to expand the use of Nova in your business. Industry-specific customization will help you develop and streamline your operations the way you want. Save time and collect better data by working together with you to design the electronic tools you need for Visma Nova.
We can build Visma Nova, for example:
Skycode is your partner in developing Visma Nova
Contact us and tell us what your needs are and we will work together to find a solution. We have experience in numerous projects with Visma Nova and many other ERP systems. Even our clients' difficult problems have often been met and solved in our previous projects. We are a solution-focused partner who will not be overwhelmed. It's nice to do business with us and get good ideas. Numerous satisfied Visma Nova customers are happy to share their experiences of working with us.
Satisfied Visma Nova customer: Rengastukku KM-RRR Yhtiöt Oy

"KM-RRR Yhtiöt Oy is the most comprehensive car tire wholesaler in the north for dealers (B2B).
The company imports passenger and truck tires from Asia and Europe. The range consists of both premium and budget tires.
The goal of KM-RRR Company was to create a better online store that would serve retailers as well as possible and allow for smooth trading especially during the hectic sales season.
Skycode Oy's professional know-how and customization of the service made it a great success. The cooperation with Skycode was easy and clear.
Integration with Visma's ERP system was seen as an important part of e-commerce, and Skycode did a great job of implementing this.
Feedback from retailers regarding the new online store has been positive.
With the reform, we will be even more competitive in the market. "
Janne Maunu, Sales Manager
KM-RRR Yhtiöt Oy
SUCCESSFUL APPLICATIONS Check out
työnäytteisiimme
Let's design together! Please contact us for more details:
+040(056)1771-XNUMX XNUMX